Summer courses take place at the Rudolf Steiner Painting School every year in June, July, and August.
Summer courses take place at the Rudolf Steiner Painting School every year in July and August. They offer a week of intensive painting which is experienced as healthy and enjoyable by participants worldwide. We work with plant-based pigments, and our way of working with colour is based on a combination of artistic and therapeutic questions. 
Review by a participant of the 2020 summer course:
"My seven days in the Rudolf Steiner Painting School can be summed up like this: An intimate immersion of myself into the world of colours. It was an experience of the gestures and possibilities of the different colours; how they interact with each other and in this process, with the artist, they co-create the shadow of the light of the spirit. This interweaving process brought forms into being, made the invisible visible.
I also appreciated the community painting process at the beginning, –a starting point where each one took part in creating an image. I find it beautiful that each one was given the chance to be individual while co-creating the bigger picture. It paved a smooth transition to the first exercise.
During the sharing or presentation of the paintings at the end, it is amazing for me to see the individual interpretations…There was also another profound realization that was awakened in me. I was somehow exposed but was also hidden behind the colours. My work reflected so much of who I am but no one knows what it means until I articulate and share my own inner processes. I find it beautiful that we were free to expose ourselves; we were allowed to be vulnerable but not fully revealed. The colours exposed our shadows in a healthy and productive way.
Lastly, it was so healing to experience something similar to that of unfolding one's biography in the process. My "finished" work has no signs of the beginning stage but as the co-creator of the process, I know where to locate it, "the seed", and how it came to be." – Kate Estember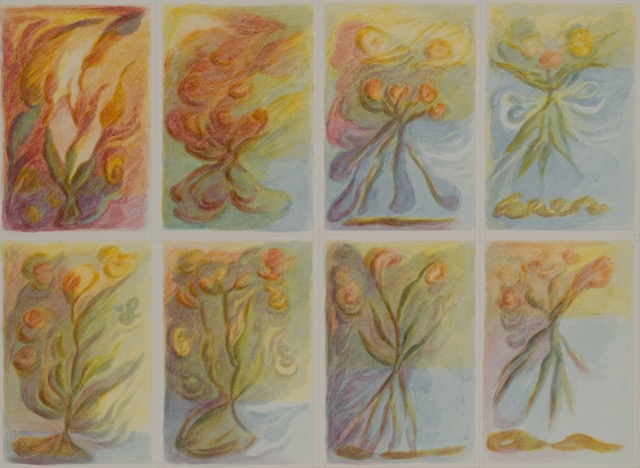 Painting with Plant-Based Pigments: 5-11 July 
Theme:  Plant Metamorphosis –Transformation in the Life of the Plant
Wednesday, 5 July, 10 -12.30, Introduction to the Theme and Painting/ 3 – 5pm Painting
Thursday, 6 July, 9 – 12.30 and 3 – 5pm Painting
Friday, 7 July, 9 -12.30 Painting / Free afternoon  (Exhibitions at the Goetheanum open only on Fridays)
Saturday, 8 July, 9 -12.30  4 – 6pm Painting
Sunday, 9 July, 9 -12.30  Painting / 3 -5pm Painting
Monday, 10 July, 9 – 12.30 and 3 – 5pm Painting
Tuesday, 11 July, 9 – 12.30pm Review and presentation of paintings
We will begin the day (9 –9.45) with conversation on the theme.
Cost:  Fr 450/Euro 450 (materials included)
Students:  Fr 300 /Euro 300 (materials included)