During term time and often during vacations there is an exhibition of paintings in our gallery on the ground floor.
Opening times:
1pm to 6pm, Monday to Sunday
The painting studio is on the first floor. Feel free to visit us and take a look at the student's work.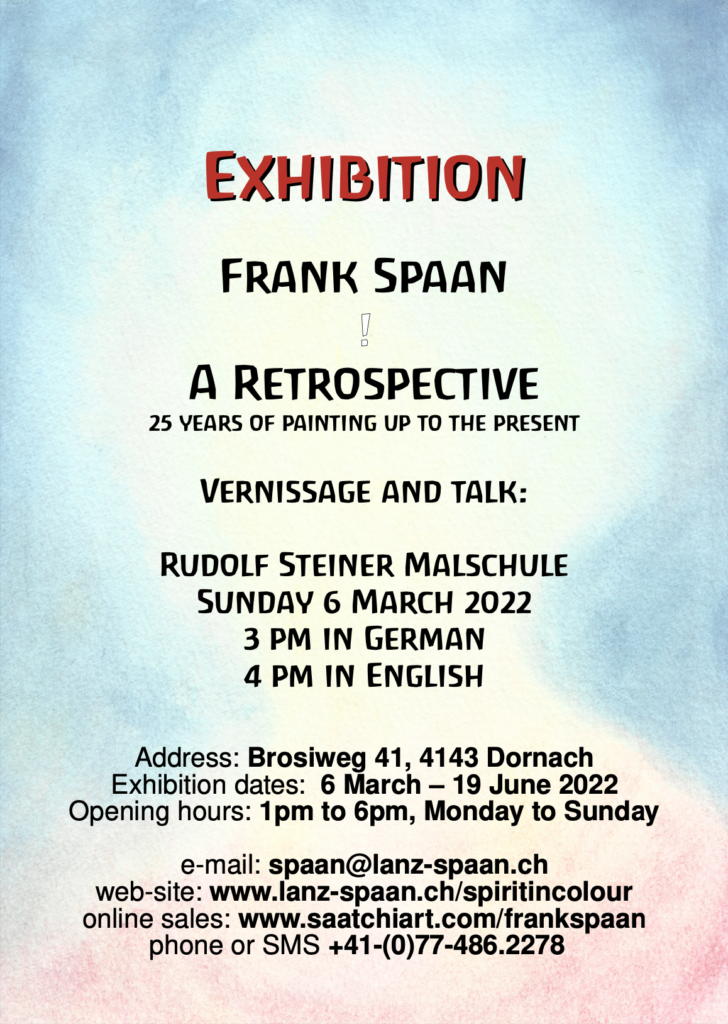 The exhibition in the painting school at Brosiweg in Dornach shows 33 paintings by Frank Spaan from about 25 years. Mainly, but not only, he worked with vegetable watercolours on paper. The size varies from 20×20 cm to 4 m2.
"How do I paint in the 21st century?" was and is a central question. The artistic process investigates how the spirit of the theme of the painting can enter into the substance of the artwork; which conditions, in material and method – based on Rudolf Steiner, Margarita Woloschin and autodidactic development – support this connection.
The exhibition lasts until 19 June and is open in the afternoon; relevant books and brochures, among others on background and method, are available.
ERWIN THOMALLA (1925-1983)
24 October 2021 until 27 February 2022
Vernissage with music: 3pm, Sunday, 24 October
Address: Andrea Hitsch
(With refreshments)