About Gerard Wagner (1906-1999)
Gerard Wagner was an English painter who lived and worked near the Goetheanum in Dornach. He based his work ethic on Rudolf Steiner's indications for a new art of painting.
In 1928 Gerard Wagner became Henni Geck's pupil and throughout the following years based his painting and colour research on the 'Training Sketches'. Through these he was able to find a key to answering the question of how form comes out of colour. He wrote in the introduction to Animal Metamorphosis, 1972:
Rudolf Steiner formulated the question that is the decisive one for painters of our time: how does form arise out of colour? In his sketches and paintings Rudolf Steiner gave examples of how colour can lead to form, as well as to an experience of the world of formative forces. For this reason the Training Sketches can be regarded as the beginning of a new art of painting, which is in accordance with the development of modern consciousness.
Gerard Wagner's archive of more than 4'000 paintings, and numerous worksheets of experimental colour research, continue to be a source of inspiration for the painting school. 
Visit the Rudolf Steiner Painting School Gallery to see originals of his work.
References
Monograph of Gerard Wagner:
Elisabeth Koch/ Theodor Willmann/ Gerard Wagner
GERARD WAGNER. DIE KUNST DER FARBE (The Art of Colour), 1980, Verlag Freies Geistesleben 
An English translation by Katherine Rudolph can be found on her website: exploringtheword.com.au
Caroline Chanter
GERARD WAGNER 1906-1999. A LIFE WITH COLOUR, 2021, Rudolf Steiner Press. This extensive biography of the painter Gerard Wagner includes many photographs and paintings. It also has indications given by Rudolf Steiner's towards a new painting impulse.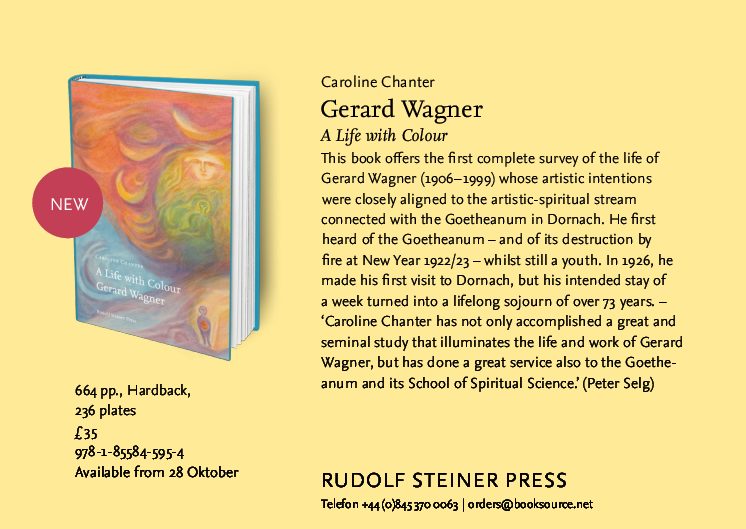 Gerard Wagner's CV
1906 born in Wiesbaden, Germany

1912 family moved to England

1924-26 Studied painting at St Ives, Cornwall with John Park and at the Royal College of Art, London

1926 moved to Dornach, Switzerland

1928 studied painting with Henni Geck at the Goetheanum, Dornach

From about 1930 independent painter, exhibitions world-wide (in 1997 at the Hermitage, St Petersburg, Russia)

From about 1950 teaching activity in Switzerland, mostly at the Goetheanum, and in Germany and England

1999 died in Arlesheim, Switzerland
Painting workbook:
Elisabeth Wagner-Koch/ Gerard Wagner
THE INDIVIDUALITY OF COLOUR, 1980, Rudolf Steiner Press (out of print in English)