Study and Conversation Group
13 October – 8 December 2015
TUESDAYS 7.00 – 8.00pm
Towards an Understanding of Art inspired by Anthroposophy
Study material:
Art as seen in the light of Mystery Wisdom by Rudolf Steiner. The first lecture: Technology and Art
Study group leader:
Caroline Chanter
Location:
Rudolf Steiner Painting School (formerly Painting School at the Goetheanum)
Atelierhaus, Brosiweg 41, Dornach
Free of charge
Saturday Morning Painting Group
at the Michael Zweig (Anthroposophical Branch) in Zürich
Painting with Plant Colours
Remaining classes for 2017 : 28 Jan/ 18 Feb/ 18 March 2017
9.30am – 12.45pm at Lavaterstr.97, 8002 Zürich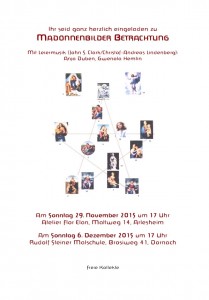 A sequence (given by Rudolf Steiner) of Raphael's Madonna paintings set to music
Music and Image
with John S. Clark/Christof-Andreas Lindenberg (Leier music) and Anja Duben, Gwenola Hemlin.
Entrance Free: Collection.
Art Therapy Training India
In August 2014 a 4-year art therapy training began in Bangalore, India. The training consists of 2 intensive 8-day modules a year.
The course has 16 participants, 6 of them medical doctors. The enthusiastic reception this course has met attests to the growing interest worldwide in art and medicine inspired by the work of Rudolf Steiner.
Course leader: Caroline Chanter
Course co-ordinator: Dr Wahida Shaikh
The training is organised in co-operation with the Medical Section of the School of Spiritual Science at the Goetheanum.